Webinar: The World of Powerful Geoportals
Published by

editors

on December 17, 2012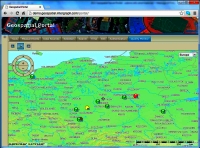 Geospatial organizations need to publish different types of geoportals for different purposes. Geospatial portals that are designed for public access on the internet must be fast, easy to use, and support a large number of users. Alternatively, geoportals deployed for intranet use typically need to address the business workflows of a smaller group of users. To address this wide range of requirements, it is critical that organizations have a flexible tool for creating, configuring, and customizing their various portals.
In Intergraph Geospatial 2013, Geospatial Portal is the single browser-based web client used for all server-based products. Geospatial Portal removes the barriers that are typically associated with creating a geoportal, and lets you easily publish both simple-to-use applications for public consumption and advanced portals for enterprise users. Geospatial Portal's powerful browser application makes it easy to visualize and share accurate geospatial data with government agencies, businesses, and the public. During this webinar, we'll demonstrate how Geospatial Portal can help you create the best geoportals for your needs.
Register now for a public webinar on topic of The World of Powerful Geoportals with panelist Marek Brylski (Product Line Director, Geospatial Server) and Amy Zeller (Product Marketing Manager, Geospatial Server), it will take place in Tuesday, December 18 at 4pm (GMT+01:00), duration 1 hour.
Distributor of Intergraph products in Slovakia is company G-BASE, in the Czech Republic it is Intergraph CS and the commercial representation for ERDAS products in both countries has TKP Czech Republic.